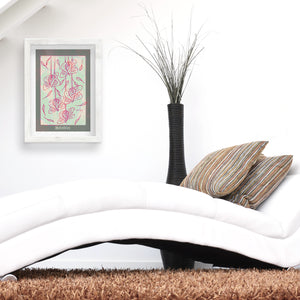 Falling Beautiful Song
---
Rainforest Utopia 7
"The other day I was walking down the old railway track near my home. The last train rumbled by years ago. Now it's a wasteland of tall grasses, white albizia trees and flowering vines.
There's a rough footpath where the tracks used to be. On either side, vines trail pink flowers from tree branches. Big, black bumble bees float from flower to flower in the hot morning sun and green parakeets flock noisily in the canopy.
This piece was inspired by the unexpected loveliness of those wild, pink flowers in their wild setting. Sometimes it's the forgotten places that are the most beautiful."